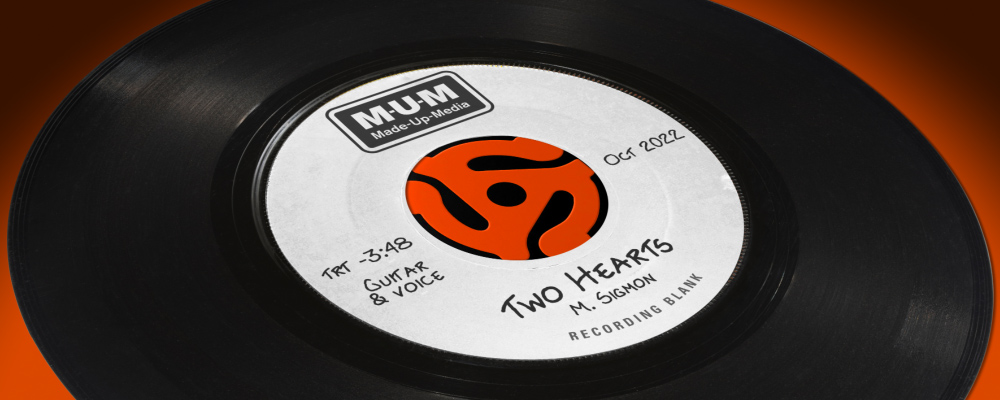 ---
One of my early goals with this website was to share some projects in progress. It seemed like it might be fun, an illuminating gift for those with an interest in creative process. But with that in mind, it didn't take long for me to realize there aren't many unfinished things I actually want to share, because (wait for it), they're unfinished. Duh. And the curse of romantic idealism strikes again!
Nevertheless, here I am doing it. Two Hearts is a recent composition, and one that took some effort for me to get a feel for. There's a fine line between delicacy and passivity, cliche and comfort, and this song made me look carefully at both of those dynamics. The recording is a single guitar part (doubled), and a few vocal passes for laying out harmonies.
I made a couple temporary mixes I wasn't particularly jazzed about, but this time, the sticking point was a question of what effects to apply to the tracks. When all you have in a recording is guitar and voice, the sonic setting can have a tremendous impact on the overall feel, and that was certainly true here. On this mix, I used a plugin from PSPAudioware – PSP Echo. It was my first experience using the software, and I found it did a fantastic job of creating a subtle effect that fell somewhere between delay and reverb, putting the track in a really nice space.
Two Hearts
Some days
I wake and wonder how much farther we can go
Some days
There's a spell that I fall under
No more questions- I only know
I know some loves grow stronger
And I know some loves will fade
I believe this love will last longer
Than anything two hearts have ever made
Some nights
I'm laying in the shadows and thinking how all of this will end
Some nights
I'm showered in a light that leaves no doubt
Love will always win
Yeah love will always win
Chorus
The harder you hold to what you have
The more it slips away
If you let it go it can return
The more that you want
The less you'll have
It's always been that way
God it's been hard for me to learn
Sometime we'll both be looking back on moments we thought would never end
Somewhere a dawn will be breaking
And love will rise again
Yeah love will rise again
Chorus
---